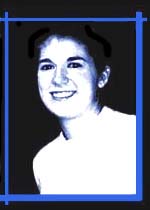 What's up, everyone? I'm Jen, and I've made an official attempt to portray myself as an interesting person through this site. I'm 21, gay, and I live in Iowa. If you're dying for more (and I know you are...), check out my bio page.
Other stuff on my site....
Friends - These are the people who humor me by pretending to enjoy my company. I luv them a lot.
Pics - Everyone loves pictures. These are mostly of me and my crazy friends.
Journal - This is where I document my daily life.
Rave - My name is Jen, and I'm a raver. Here is where you'll find all sorts of rave info, my favorite dj's, and some other fun stuff. *~Under Construction~*
Guestbook - Sign it! Or I will kill you! (Just kidding...)
Contact Info - You know you want to email me. You might as well give in to the temptation.